Q: Doublemint
12/18/20
AO: Ettas Nest
Pax: Jewels, Bindi, Salty and Lucy
Warm-up: 5 Motivators
High Knees in cadence
Little Baby Arm Circles in cadence forward and backward without dropping arms into Randy's (Randy is from A Christmas story when little brother Randy can't put his arms down. Just pulse arms up and down)
The Thang: See pic below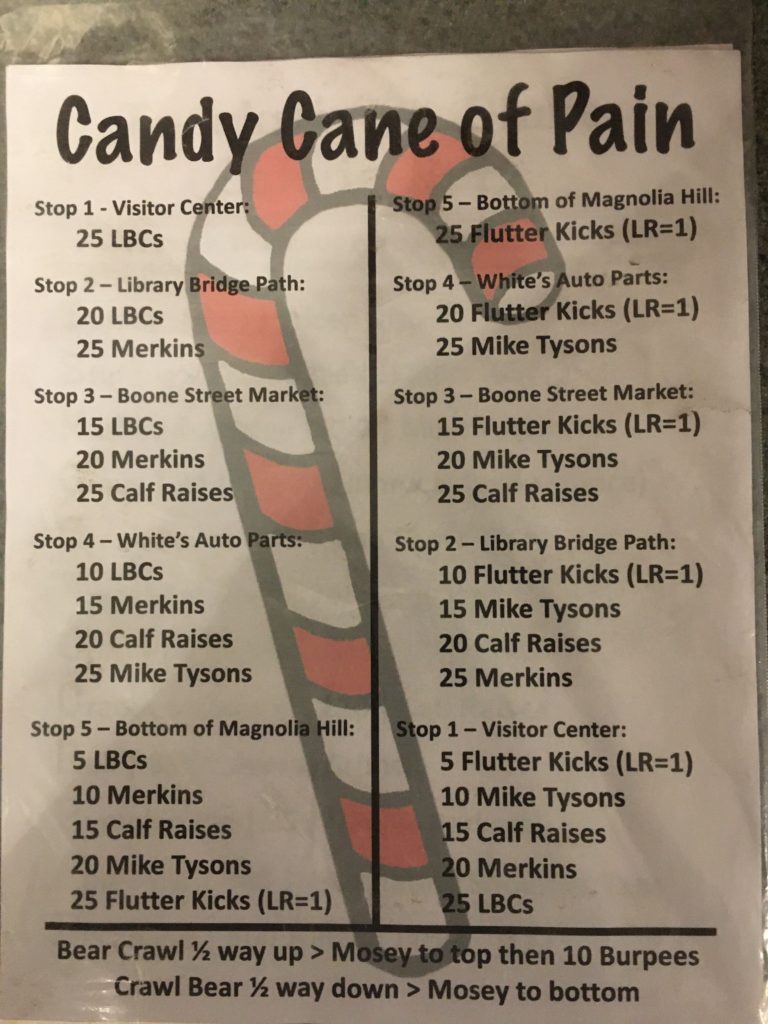 COT: Today our workout was in the shape of a Candy Cane, so I wanted to share the story around the Candy Cane.
It had to be special to be a gift for the King of Kings, thought the humble candy maker from Indiana. Not just any piece of candy would do. It had to be hard candy because the church is built on solid rock and God's promises are a firm foundation. It would be formed in the shape of the Good Shepherd's staff. A "J" that would also stand for the precious name of Jesus.
But it had to say more. White stripes would symbolize the virgin birth and
sinless nature of Christ. Three small red stripes would represent the scourging Jesus suffered on His way to the cross. One large red stripe would remind those with eyes to see and ears to hear of the blood Jesus shed as payment for our sins. It would be a gift of love that would tell His story –
the greatest story ever told
Merry Christmas everyone!!